What is the GMAT anyway?

The GMAT is the standardized test used by business schools to determine admission into their programs. The test lasts approximately 3 1/2 hours. You'll have two half-hour essays that you'll write first followed by a 5-minute break. Next, you'll have a 75-minute quantitative section consisting of 37 questions followed by another 5-minute break. You'll finish with a 75-minute verbal section consisting of 41 questions.

The GMAT is one of three main things an admission committee will use to determine whether to admit you. The other two are your undergraduate scholastic record (i.e. grade point average) and your work experience. You can't do anything about the former and probably can't do too much about the latter. Therefore, you should prepare for the GMAT very seriously. This website contains a vast amount of information to allow you to do just that.

---
How many times can I take the GMAT?

You can take the GMAT up to five times during every consecutive 12-month period, with one test allowed for every 31 calendar days. However, many schools frown upon taking the test too many times. Taking the test twice probably won't get you into any trouble though. Taking the test a third or fourth time may cause an admissions committee to question your ability. While, most schools will only consider your best score, some schools may handle this differently for someone who has taken the test multiple times.

It's important to note that schools will see all of your scores. Even if you decide to cancel a particular score (which you must do before seeing your score), the cancellation will still be reported to the school. Plan on taking the test no more than twice and assume that the admissions committees will take the best of those two scores.

---
What level of math is required for the GMAT?
The test rewards those with a mastery of arithmetic and Algebra I, a small subset of geometry, and a tiny bit of combination/permutation/probability and statistics.  The Quantitative section of the GMAT exercises problem solving and reasoning skills as much as pure math ability.
---
Am I allowed to use a Calculator on the exam?
No, not on the quantitative section, but there is an on-screen calculator built into the Integrated Reasoning section.
---
How is the GMAT scored?
There are five GMAT scores:
Verbal (0-51 Points) from 41 questions in 75 minutes
Quantitative (0-51 points) from 37 questions in 75 minutes
Total (200-800 Points) derived from Quantitative and Verbal scores
Integrated Reasoning (1-8 points) from 12 questions in 30 minutes
Analytical Writing Assessment (0-6 points) from one 30-minute essay
The current GMAT Quantitative section is computer adaptive, adapting to your performance after each question, increasing or decreasing the difficulty level accordingly. According to the test makers, the GMAT employs a complex mathematical system to compute the score. The exact algorithm is unknown, but it rewards more points for harder questions, and less for easier ones. The smart appproach is to spend more time and energy on those questions appeared at the beginning of the test. If you are not sharp enough to finish all the questions, then sacrifice those questions toward the end of the test. Always remember that quality is much more important than quantity to determine your final score.
---
What's a good GMAT score?
Good is relative.  Here is a table mapping Quantitative score to percentile ranking, showing where each score would place you among the entire pool of MBA program hopefuls.  
 Integrated Reasoning Percentile Table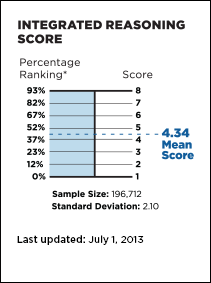 Percentile Rankings for Quantitative, Verbal, AWA, and Total Scores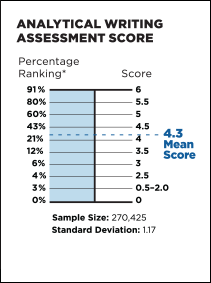 ---
What GMAT score should I be shooting for?
In short, you should try to get as high of a score as possible, but have an idea of how your score will look compared to other applicants.  Here is the median total GMAT scores for the top 50 business schools (according to Businessweek in 2011), as well as the Quantitative and Verbal scores correspond to the percentile ranking.  Take a look:
The scores above will put you in the middle of the accepted student pile.  If the rest of your application is outstanding, maybe you can get by with less.  Some applicants need higher than average scores to be competitive.
---
How long will it take to get the score I want?
This is the most common, and hardest question to answer.  It depends on your current ability and your goal, how many hours a week you are able to study, and how fast you learn.  Most of my students who are able to study hard need two or three months to achieve their goals.
---
Can I cancel my score if I do badly?

Yes, but you must do so before you see your test score. Once your score has been reported to you, you do not have the chance to cancel. In most cases, canceling your score is a bad idea. The only cases in which we would recommend canceling are those in which you had an extreme circumstance which caused a very poor performance (illness, bad testing environment, etc.). Usually, people think they did worse than they actually did. Remember that even if you don't cancel and do poorly, you do have the chance to take the test again.

---
Which GMAT resources would you recommend?
Great free resources:
The Official GMAT Web Site
GMATPrep (computer-based GMAT test)

Recommended resources for purchase:
The Official Guide for GMAT Quantitative Review
The Official Guide for GMAT Review
Retired GMAT Paper Tests